HONG KONG, Feb 24, 2023 – (ACN Newswire via SEAPRWire.com) – Organised by the Hong Kong Trade Development Council (HKTDC), The 39th HKTDC Hong Kong International Jewellery Show and 9th HKTDC Hong Kong International Diamond, Gem & Pearl Show, will be held from 1 to 5 March at the Hong Kong Convention and Exhibition Centre. As a curtain-raiser for the twin jewellery shows, the 24th Hong Kong Jewellery Design Competition was announced at the press conference (16 Feb). The competition was jointly organised by the HKTDC, the Hong Kong Jewellers' & Goldsmiths' Association, the Hong Kong Jewellery & Jade Manufacturers Association, the Hong Kong Jewelry Manufacturers' Association and the Diamond Federation of Hong Kong. It promotes local jewellery design excellence, nurtures talent for the industry and showcases Hong Kong-made jewellery to international buyers.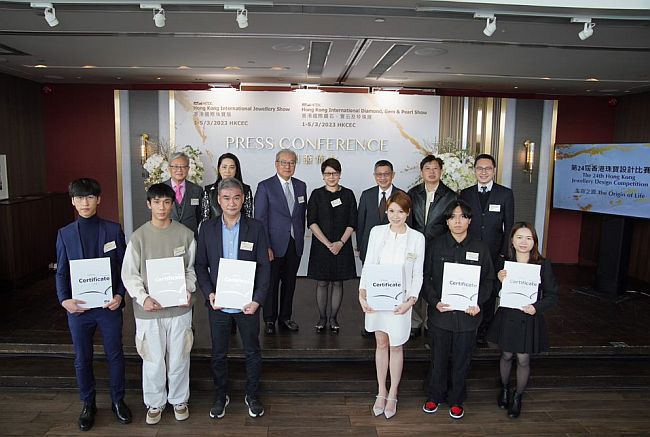 Winners and guests at the awards presentation ceremony of the 24th Hong Kong Jewellery Design Competition
Open Group Best of Show Award – Title of design: Dandelion. The Power of Life; Designer: Tang Yuk Ying; Category: Pendant/Brooch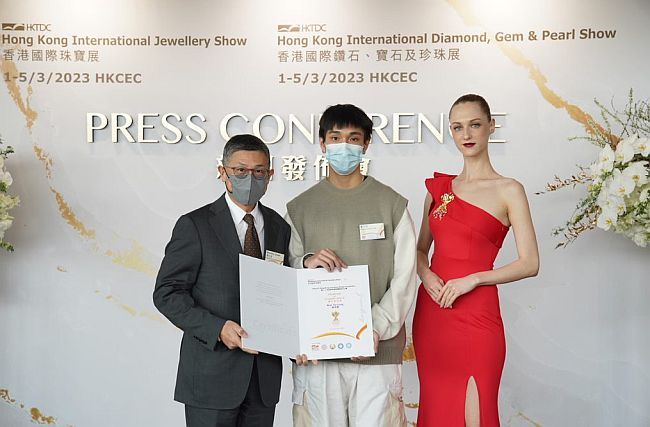 Student Group Champion and Craftsmanship and Technology Award – Title of design: life – cybercity; Designer: Mak Tin Long; Company: Chow Tai Fook Jewellery Group Master Studio; Name of school: VTC Youth College; Category: Pendant/Brooch
Themed "The Origin of Life", the competition was divided into the Open Group and Student Group. Hong Kong design talents were encouraged to create and craft enthralling jewellery pieces based on culture, upbringing and life experiences. This year's competition received nearly 100 entries. The winners were chosen by a panel of seven judges based on four criteria – creativity and innovation, aesthetics, craftsmanship and wearability, topic relevance and marketability (for the Open Group only). Winning pieces will be displayed at the Hall 1E Concourse during fair period, allowing jewellery buyers and exhibitors to appreciate the creativity in Hong Kong's original designs.
Open Group brims with original ideas and exquisite designs
Three Best of Show Awards were given out in the Open Category. Tang Yuk Ying clinched the award with her pendant/brooch design Dandelion. The Power of Life. Using a rotating corolla adorned with green garnets, the designer vividly portraits the perseverance and bravery of the dandelion as its seeds ride the wind into the unknown and adversity, it can always take root, survive and thrive.
Another Best of Show Award winner was Law Tsz Wan. His design, Rice, pays homage to Yuan Longping, the "father of hybrid rice". The gold-green pendant/brooch illustrates the sparkling vibrance of a rice stalks and emblems Mr Yuan's invention and his contributions to mankind.
Xu Qihua and her bracelet/necklace design Ocean of Life took home the third Best of Show Award. The design originates from a Greek myth about dolphins guarding oceans. Depicting dolphins darting between waves, the designer urges the wearer to help protect the water resources, ocean and life.
Student Group exudes boundless creativity
To inspire more young design talents to join the jewellery design profession, the competition includes a Student Group, open to students from Hong Kong's registered schools. Mak Tin Long from the VTC Youth College, championed the Group with the pendant/brooch design Life – Cybercity. Its manufacturing company Chow Tai Fook Jewellery Group Master Studio won Craftsmanship & Technology Award. The design comprises of water molecules, tree roots, tree trunks and skyscrapers made of silver, enamel, topaz and zircon stones projecting a city built on water and Earth's mineral resources, illustrating the importance of harmony between urban development and the nature.
The Student Group's First Runner-up went to Lee Kwan Ho of the Hong Kong Polytechnic University. His men's jewellery series The Beetles was inspired by the World Tree, a mythical tree of life. The design features three rhino beetles living in the world tree with a lifespan of only one year, urging humans to experience and cherish life despite the transience of time, life and youth.
The Second Runner-up of the Student Group was Leung Kwok Yee from The Chinese University of Hong Kong. Her Taoist-inspired ring design The Creation of Entirety uses different materials to represent different elements of life: Pink and green tourmalines represent "yin" and "yang"; cabochon sapphire means the growth of different species; and the five elements are illustrated by white crystals, interlocking coin shapes (water) on the ring shank, cabochon sapphires on branches (soil and wood) and a burning fire shape in the middle.
Twin jewellery shows attract keen participation from global traders
From 1 to 5 March, more than 2,500 exhibitors will showcase exquisite jewellery items and raw materials at the Hong Kong International Jewellery Show and Hong Kong International Diamond, Gem & Pearl Show. Various seminars and events will be organised to allow industry players to stay up-to-date and explore further business opportunities. Topics include Bling Up Your Business with Blockchain & NFT, Hong Kong Jewellery Industry Shines over the World, THE JEWELLERY TRENDBOOK 2024+ 'From Consumer Culture to New Market Opportunities', Jewellery Enamelling: The Techniques, Introduction of 'Dealers in Precious Metals and Stones' Registration Regime, Ammolite – A 71 Million-Year Natural Treasure only from Alberta, Canada, Achieving SDG of Jewellery Testing and Certification Industry through Innovative Integration of Industry, Education, Research and Application. For details, please check https://www.hktdc.com/event/hkjewellery/en/intelligence-hub.
Fair websites
– Hong Kong International Jewellery Show: https://www.hktdc.com/event/hkjewellery/en
– Hong Kong International Diamond, Gem and Pearl Show: https://www.hktdc.com/event/hkdgp/en
– Events and Seminars: https://www.hktdc.com/event/hkjewellery/en/intelligence-hub
– HKTDC Media Room: https://mediaroom.hktdc.com/en
Photo download:
– The 24th Hong Kong Jewellery Design Competition Award Presentation Ceremony: https://bit.ly/3ILdkFa
– Winning pieces from Open Group and Student Group: https://bit.ly/3ZcgTJR
About HKTDC
The Hong Kong Trade Development Council (HKTDC) is a statutory body established in 1966 to promote, assist and develop Hong Kong's trade. With 50 offices globally, including 13 in Mainland China, the HKTDC promotes Hong Kong as a two-way global investment and business hub. The HKTDC organises international exhibitions, conferences and business missions to create business opportunities for companies, particularly small and medium-sized enterprises (SMEs), in the mainland and international markets. The HKTDC also provides up-to-date market insights and product information via research reports and digital news channels. For more information, please visit: www.hktdc.com/aboutus. Follow us on Twitter @hktdc and LinkedIn
Media enquiries
Please contact the HKTDC's Communications & Public Affairs Department:
Janet Chan, Tel: +852 2584 4369, Email: janet.ch.chan@hktdc.org
Frankie Leung, Tel: +852 2584 4298, Email: frankie.cy.leung@hktdc.org
Dino Chen, Tel: +852 2584 4137, Email: dino.f.chen@hktdc.org
Copyright 2023 ACN Newswire. All rights reserved. (via SEAPRWire)